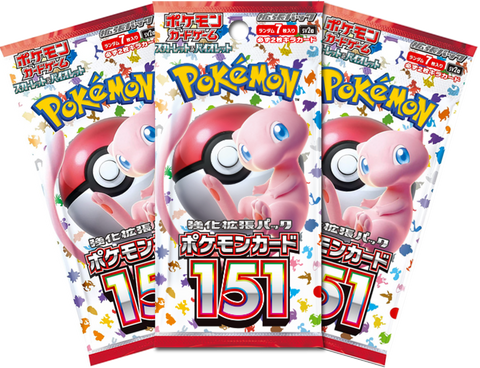 Pokemon Trading Card Game - 3 Packs of Pokemon 151

NOTE: IF YOU BUY MORE THAN 20 PACKS

AT ONCE

 (WHICH IS AT LEAST QUANTITY 7) THEN YOU MAY REQUEST A SEALED BOX BE OPENED. PLEASE PUT THIS IN THE 'NOTES' BOX AT CHECKOUT.
You will receive 3 loose packs of Pokemon 151, opened on live stream. 
     Pokemon 151 includes Vanusaur ex, Charizard ex, Blastoise ex, Arbok ex, Ninetales ex, Wigglytuff ex, Alakazam ex, Golem ex, Kangaskhan ex, Jynx ex, Zapdos ex, Mew ex, Erika's Invitation, Giovanni's Charisma, Daisy's Help and Bill's Transfer plus additional Art Rare and gold Ultra Rare cards. 
---