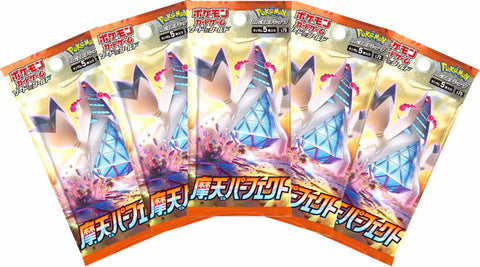 Pokemon Trading Card Game - 5 Packs of Towering Perfection
NOTE: IF YOU BUY MORE THAN 30 PACKS AT ONCE (WHICH IS AT LEAST QUANTITY 6) THEN YOU MAY REQUEST A SEALED BOX BE OPENED. PLEASE PUT THIS IN THE 'NOTES' BOX AT CHECKOUT.
You will receive 5 loose packs of Towering Perfection, opened on live stream. 
    Towering Perfection includes Suicune V, Golurk V, Golurk V AA, Lycanroc V, Garbodor V, Noivern V, Noivern V AA, Duraludon V, Duraludon V AA, Raihan, Schoolgirl, Copycat, Lycanroc VMAX, Garbodor VMAX, Duraludon VMAX, Duraludon VMAX AA, Raihan Rainbow, Schoolgirl Rainbow, Copycat Rainbow, Cresselia Gold, Full Face Shield Gold, Crystal Cave Gold, Metal Energy Gold.

---