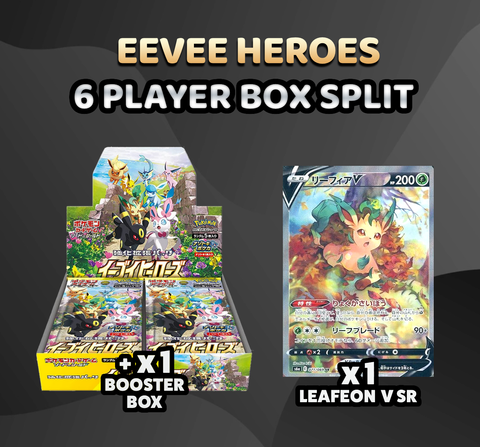 Pokemon Trading Card Game - Eevee Heroes 6 Player Box Split with Leafeon SR ALT #1
SUMMARY:

Break Style: Group Break - Box Split, participants split packs from a booster box
Number of Packs:

 3

0 packs from 1 box, 5 packs per spot
Number of Spots:

 6

 Spots
Extras:

 1 Leafeon V SR ALT card to one random spot 
---
DETAILS:
     For this break, you will receive all Double Rare (RR), Triple Rare (RRR) and secret rare (S, SR, SSR, HR, UR) cards from 5 booster packs from the pictured booster box. If you select the 'Include Bulk' option, you will also receive the Common (C) and Uncommon (U) cards from your packs.
  You and the other participants will receive all cards (or only pulls if you select that option) from 5 packs from a sealed booster box opened on live stream. You and the other participants will also have a chance to win the secret rare card pictured.  Packs will be shuffled and divided into 6 sets of 5 packs. Packs will then be opened in order for each participant starting with spot 1. The extra secret rare card (pictured above) will be randomized to one spot at the end of the break. 
---
SET INFORMATION:  
   Eevee Heroes includes Leafeon V, Flareon V,  Vaporeon V, Glaceon V, Jolteon V, Espeon V, Sylveon V, Umbreon V, Leafeon VMax, Glaceon VMax, Sylveon VMax, Umbreon VMax, Inteleon UR.
---
NOTES:
As this is a group break, packs will only be opened once all spots are sold out and the break is completely filled. 
Shipping is

 

not included

 

in this purchase. For shipping info, CLICK HERE. We can hold your purchases for as long as you like and continue to consolidate your orders to save on shipping costs. If you would like your orders shipped immediately, you will need to purchase shipping. Check out our 

FAQ page

 

for more information on shipping.
---