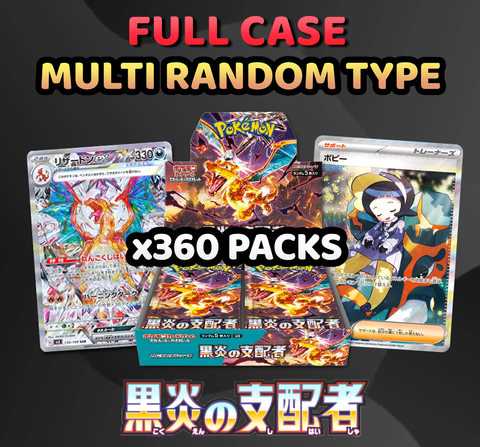 Pokemon Trading Card Game - FULL CASE Ruler of the Black Flame Multi Random Type Break (360 Packs) #1
THIS BREAK IS SCHEDULED TO BE OPENED ON
SUNDAY, JULY 30th

 AROUND 9PM EDT



SUMMARY:

Break Style: Group Break - Multi Random Type Break
Number of Packs: x12 Boxes of Ruler of the Black Flame (360 Packs) 
Number of Spots: 10 Spots
Extras: Sealed packs for hitless spots (Ruler of the Black Flame)
---
DETAILS:
     For this break, you will receive all  Double Rare (RR), Triple Rare (RRR) and secret rare (SR, AR, SAR, UR) cards from 4 randomly selected types, randomized every 3 booster boxes from the pictured packs. You will also receive a random variety of the holo rare (R) cards from the break (no specific type). If you select the 'Include Bulk' option, you will also receive a random variety of the Common (C) and Uncommon (U) cards from the break.
     There are 10 spots in this break. Types will be randomly assigned every 3 booster boxes before those boxes are opened on stream. It is possible to get the same type twice as type assignment is completely random each round. Any spot that does not hit at least 1 Double Rare (RR) or better will receive at least 1 sealed pack.

---
SET INFORMATION:
    Ruler of the Black Flame includes Eiscue ex, Tyranitar ex, Vespiquen ex, Glimmora ex, Charizard ex, Absol ex, Revavroom ex, Pidgeot ex, Greeta, Ortega and Poppy plus additional Art Rare and gold Ultra Rare cards. 
---
NOTES:
As this is a group break, packs will only be opened once all spots are sold out and the break is completely filled. 
Shipping is

 

not included

 

in this purchase. For shipping info, CLICK HERE. We can hold your purchases for as long as you like and continue to consolidate your orders to save on shipping costs. If you would like your orders shipped immediately, you will need to purchase shipping. Check out our 

FAQ page

 

for more information on shipping.
---