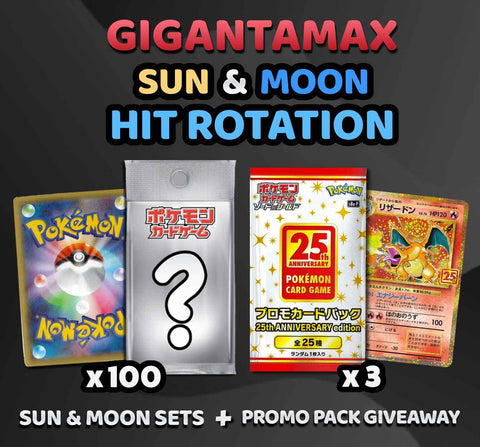 Pokemon Trading Card Game - Random Sun & Moon Sets + Promo Giveaway Hit Rotation Break (100 Packs) #1


SUMMARY:
Break Style: Group Break - Hit Rotation ('Hits' are evenly distributed

) 

Number of Packs: 100 Loose Packs from a variety of sets
Number of Spots: 8 Spots
Extras:  x3 25th Anniversary Promo Packs to 3 random spots
DETAILS:
     For this break, every spot will receive one or multiple random 'hit' cards from 100 random packs in this break. Holos will be distributed evenly to all spots and do not count as a 'hit'. If you select the 'Include Bulk' option, you will receive a random variety of common and uncommon cards from the break in addition to your hits. 
Additionally, 3 25th Anniversary Promo Packs promo packs will be randomly given away to 3 spots at the end of the break. 
READ BELOW TO LEARN HOW HIT ROTATION BREAKS WORK
    Hit Rotations breaks are a style of break that distribute 'hit' cards evenly among all spots in the break. First, all names will be randomized before packs are opened and participants will be assigned new spots. Packs will then be opened. Once a hit card is found, it will be assigned to the person with the first spot on the new randomized list. The next hit found will then be given to second spot on the list. This will continue until all packs in the break are opened. Once the last spot is reached, we will start back at spot 1 and continue to distribute hits from the remaining packs. 
 Finally the holo cards will be evenly and randomly distributed to each spot in a similar fashion. This distribution will done happen off camera. 
---
SET INFORMATION:
Packs in this break are from a random variety of standard sets.
 The 25th Anniversary Promo Packs include 25 different popular reprinted cards from past TCG releases. These cards feature a new 'confetti holofoil' design. 
---
NOTES:
As this is a group break, packs will only be opened once all spots are sold out and the break is completely filled. 
Shipping is

 

not included

 

in this purchase. For shipping info, CLICK HERE. We can hold your purchases for as long as you like and continue to consolidate your orders to save on shipping costs. If you would like your orders shipped immediately, you will need to purchase shipping. Check out our 

FAQ page

 

for more information on shipping.
---