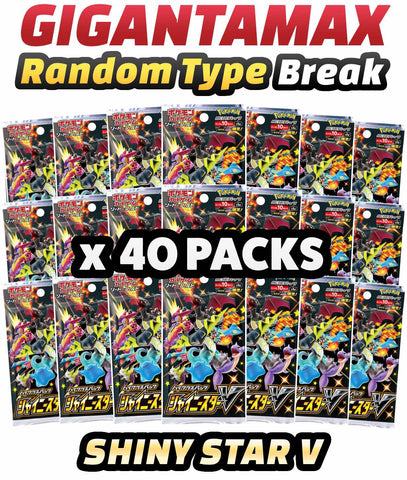 Pokemon Trading Card Game - GIGANTAMAX Shiny Star V Random Type Break (40 Packs) #41
SUMMARY:

Break Style:

Group Break - 

Random Type (

i.e. Fire, Water, Psychic etc.) 

Number of Packs: 40 Loose Packs
Number of Spots: 10 Spots
Extras: Sealed packs for hitless spots (standard sets)
---
DETAILS:
     For this break, you will receive all Double Rare (RR), Triple Rare (RRR) Amazing Rare (AR) and secret rare (S, SR, SSR, HR, UR) cards of a randomly selected type from packs of Shiny Star V. You will also recieve a random variety of the holo rare (R) cards from this break (no specific type). If you select the 'All Cards; option, you will also recieve a random variety of the Common (C) and Uncommon (U) cards from the break.
     There are 10 spots in this break. Types will be randomly assigned live before the break is opened on stream. Any spot that does not hit at least 1 Double Rare (RR) or better will receive 1 sealed pack of a standard set.

---
SET INFORMATION:
     Shiny Star V is a 'High Class' set with 10 cards and a guarenteed Double Rare (RR) or better in each pack. It also includes over 100 secret rares most featuring new shiny variant artworks from popular Sword & Shield era cards.
---