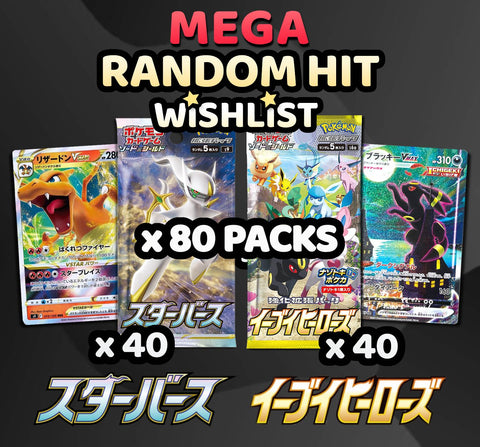 Pokemon Trading Card Game - MEGA Star Birth + Eevee Heroes Random Hit Wishlist Break (80 Packs) #1
A POEM FROM GINKGO
Make a wish and it will come true,
unless someone has made the same wish as you,
then fate will choose between the two
(or 3, or 4, etc. It's not a perfect poem)
.
Introducing the Wishlist Random Type Break. Increase your chances of getting the spot you want! 
---

EVERY SPOT HAS A CHANCE FOR A SECRET RARE HIT
SUMMARY:

Break Style: Group Break

- Semi Random Hit (Spot randomly assigned per users choices) 

Number of Packs: x80 Mixed

 Packs, x40

of Star Birth & x40 Eevee Heroes
Number of Spots: 10 Spots
Extras: Sealed packs for hitless spots (Star Birth)
---
DETAILS:
     For this break, you will receive all  Double Rare (RR), Triple Rare (RRR) and secret rare (S, SR, CSR, HR, UR) from of a weighted (based on choice) randomly selected type from the pictured packs. You will also receive a random variety of the holo rare (R) cards from the break (no specific type). If you select the 'Include Bulk' option, you will also receive a random variety of the Common (C) and Uncommon (U) cards from the break.
     There are 10 spots in this break. Types will be randomly assigned live before the break is opened on stream. Any spot that does not hit at least 1 Double Rare (RR) or better will receive at least 1 sealed pack of a standard set.

---
SET INFORMATION:
      Star Birth is the first set to introduce new VStar Pokemon. It includes Shaymin V & VStar, Charizard V & VStar, Lumineon V, Raichu V, Whisicott V & VStar, Honchkrow V, Flygon V, Areceus V & VStar, secret rare supporters and gold ultra rare item cards.
     Eevee Heroes includes Leafeon V, Flareon V,  Vaporeon V, Glaceon V, Jolteon V, Espeon V, Sylveon V, Umbreon V, Leafeon VMax, Glaceon VMax, Sylveon VMax, Umbreon VMax, Inteleon UR.
---
NOTES:
As this is a group break, packs will only be opened once all spots are sold out and the break is completely filled. 
Shipping is

 

not included

 

in this purchase. For shipping info, CLICK HERE. We can hold your purchases for as long as you like and continue to consolidate your orders to save on shipping costs. If you would like your orders shipped immediately, you will need to purchase shipping. Check out our 

FAQ page

 

for more information on shipping.
---