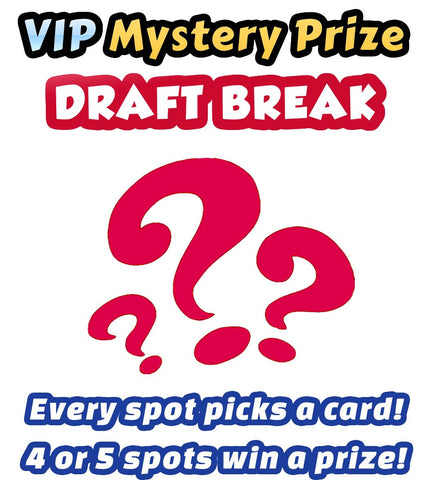 Pokemon Trading Card Game - VIP Mystery Prize Draft Break #1 - Every spot chooses a card!
THIS IS A RALLY BREAK. PLEASE ONLY PURCHASE THE SPOT ASSIGNED TO YOUR TWITCH NAME. 
For this break, participants will take turns selecting which card they would like on live stream. Selection (draft) order is decided at random. For every spot in this break, you will receive 1 rare card (such as a SR, HR, UR, Promo or equally valuable card) with 4 or 5 spots receiving an additional prize. There are 12 spots in this break. Every spot cost a different price. Lower spots cost less! 
Prizes in each break may include the following:
4 or 5 spots will receive one of the following possible prizes from the list below  
Additional bonus card (such as FA card, promo card, older holo card etc.)
$15 gift card for anything on pokemonbaribarijapan.com 
$10 gift card for anything on pokemonbaribarijapan.com
5 booster packs from a variety of recent sets of winner's choice *
A random Gachapon capsule toy
Official Pokemon Center card sleeves 
A Mystery Bag item (random Pokemon themed item)
*Please try to be present during the Mystery Prize Draft break so that you are able to select your prize. Otherwise your prize may be selected for you. Click here to watch the live stream. 
---