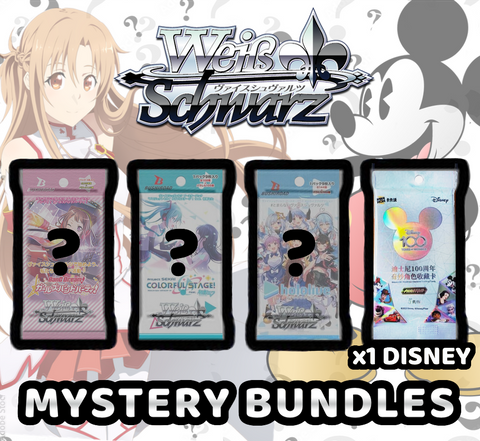 Weiss Schwarz - 4 Pack Disney Mystery Bundles Set 1
SUMMARY:

Break Style:

 Personal Opening - Mystery Bundle

Number of Packs:

 At least 4

 packs per bundle
Extras:

 Some bundles win extra packs + Sell out prize giveaway entry



---
DETAILS:
  You will receive 4 packs opened on live stream. Every bundle guarantees at least 4 different packs of Weiss Schwarz with x1 pack being Disney 100.
Some prize bundles win extra packs. Prize bundles are listed below.
2 bundles will contain 6 random packs of Weiss Schwarz sets
1 bundle will contain

 8 random packs of Weiss Schwarz sets
Every bundle purchased will enter you to win the sell out prize of x10 packs of Disney 100
Please note that the prize bundles may have some duplicate sets.
**Please request if want any sealed packs in "NOTES" at checkout.
---
NOTES:
Shipping is

 

not included

 

in this purchase. For shipping info, CLICK HERE. We can hold your purchases for as long as you like and continue to consolidate your orders to save on shipping costs. If you would like your orders shipped immediately, you will need to purchase shipping. Check out our 

FAQ page

 

for more information on shipping.
---